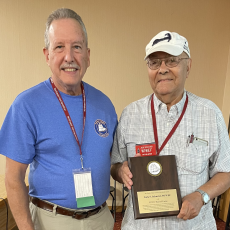 Inducted 2022
"Barnacle Jack" Schuster, W1WEF, entered the amateur radio sphere in 1952 as a young teenager and is still at it at age 84. Recently he was recognized as the longest licensed attendee at the Xenia Hamvention Contest Dinner. In 1977 after a hiatus to tend to the more important things in life he jumped back into contesting and DXing with both feet and is still competitive despite sticking to one radio.
He has willingly shared his tremendous depth of experience with YCCC members and others. We would look forward to his column "Flotsam and Jetsam" in the Scuttlebutt that he penned for many years. Jack would share his projects, tips and techniques on a regular basis for all to benefit. Jack single-handedly enabled a generation of CW contesters with his CW Keying interface. Didn't matter if you had Parallel or Serial ports, Jack had a solution for you.
An active contester, Jack's accomplishments at the PJ9JT/W1BIH contest location include Class and World M/S wins. Jack can be heard on the bands every Wednesday in the CWT events with over 450 logs submitted to date and no signs of slowing down. Jack's DXCC totals sit at 354 mixed confirmed.
As for dedication, how many of us would have fulfilled a promise to tend a WRTC site despite having our house burn down a few days before? Jack did, in 2014. W1WEF richly deserves a place of honor as a member of the YCCC Hall of Fame.
Congratulations, Jack!
Nominating Members: K1ZZ, N1RR, WO1N